At Bridge Dental, we are committed to taking care of your smile.
Scheduling regular dental check-ups helps you to maintain oral health. These visits are vital, as they allow dentists to examine your teeth and gums and spot any dental issues that can potentially affect your smile.
How often should patients visit the practice for check-ups? 
We advise our patients to visit the dental practice at least once a year as a general rule. However, it is important to highlight that this frequency can vary from patient to patient, as it depends on many factors, including oral hygiene, periodontal condition, and risk of tooth decay.
 This means that if you don't have many risks of developing dental problems, you will be allowed to wait longer for your next check-up. People with good oral health can expect to attend the practice only once every one or two years. However, those with more significant problems or with too many risk factors might need to visit the office for check-ups much more often. 
What does a dental check-up consist of?
During a typical check-up visit, you can expect the following steps:
Reception
Examination
Oral Cancer Screening
Cleaning
Reception
Our receptionists will welcome you to the practice. If you haven't visited us before, they will ask for a few personal details to register you as a new patient in our system. 
Examination
Oral Cancer Screening
Cleaning
What will happen if my teeth aren't healthy?
The dentist will let you know if the examination reveals any abnormality. Our team will recommend additional procedures and design a treatment plan to recover your oral health based on your particular situation and needs.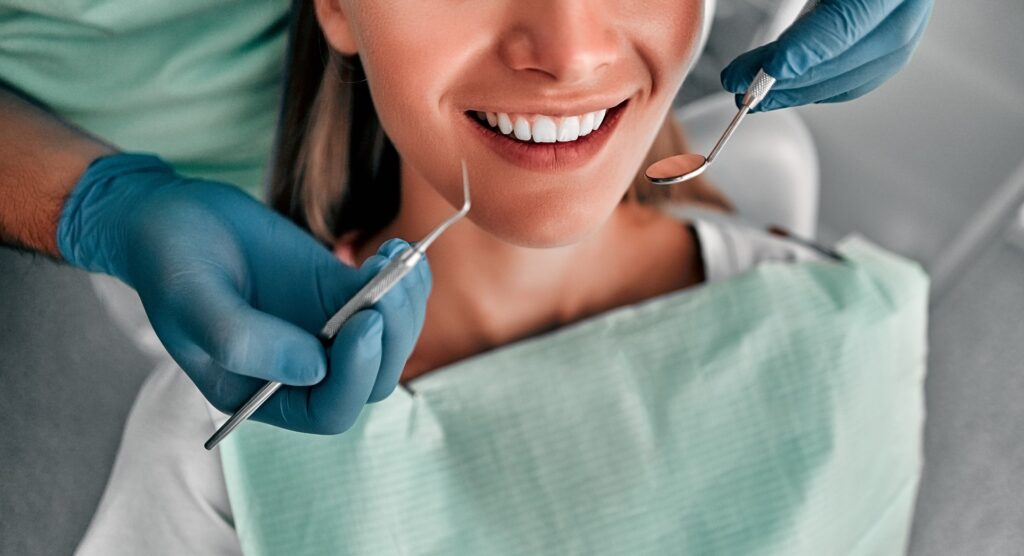 Why are check-ups so important?
Our team at Bridge Dental insists on the importance of dental check-ups. Through these appointments, dentists can detect dental problems on time and effectively treat them with simple interventions. But not many patients are aware of this. According to research by NHS Digital, half of the UK adult population hasn't seen their dentist in the last two years. And more than one-quarter of the adults visit the dental practice only when they have difficulties.
What to do between check-ups
We encourage our patients to take good care of their smiles between dental visits. Dental plaque build-up can be prevented with a correct oral hygiene routine. Below we listed some tips for good oral care that can be easily incorporated at home.
Brush and floss your teeth at least twice a day.

Use a soft-bristled toothbrush and change it every 2-3 months.

Use fluoride toothpaste.

If necessary, use mouthwash to reduce bacterial build-up.
If it has been a while since your last dental appointment, contact our team and schedule a consultation. At Bridge Dental, we are committed to taking excellent care of your smile.
Speak to our team to learn more about
our current offers